I get commissions for purchases made through links on the site. As an Amazon Associate I earn from qualifying purchases. Learn more.
Toasters are a standard appliance in many kitchens and help fasten breakfast preparation. The good news is that manufacturers have designed toasters to suit different kitchen sizes. People with small kitchens can now find a wide variety of toasters to suit their bread browning needs. If you're in the market looking for a compact, durable toaster with wide toast slots, we're here to help you make an informed choice. Our choices were based on slots' width, power efficiency, safety standards, and heat settings. Keep reading to know the best space saving toaster brands.
---
Space Saving Toasters Comparison
IMAGE
PRODUCT
DETAILS
PRICE
Cuisinart CPT-122 2-Slice Toaster
Dimensions: 6.5"D x 11"W x 7"H
Wattage: 825 watts
Special Feature: Compact Design, 7-setting Shade Dial, Reheat, Defrost and Bagel Controls
Amazon Basics 2 Slice Toaster
Dimensions: 4"D x 1"W x 1"H
Wattage: 900 watts
Special Feature: Cancel Function
whall Stainless Steel 2-Piece Toaster
Dimensions: 13.03"D x 9.25"W x 7.72"H
Wattage: 850 watts
Special Feature: Cancel Function
iSiLER 2 Slice Toaster
Dimensions: 5.3"D x 9.4"W x 7"H
Wattage: 750 watts
Special Feature: Automatic Shut-Off
Oster 2 Slice Toaster
Dimensions: 6.9"D x 11.7"W x 7.3"H
Wattage: 800 watts
Special Feature: N/A
---
Cuisinart 2 Slice Toaster CPT-122
Pros:
It's made of tempered plastic hence durable.
Has wide toasting slots.
Feature seven shade dial to offer a variety of toasting needs.
Feature a crumb tray.
Feature different heat settings.
Cons:
Too many controls, making usage overwhelming.
There were a few complaints about uneven toasting.
Cuisinart is a renowned brand when it comes to making high-end appliances. With the Cuisinart 2 slice toaster you can rest assured that you're buying a durable, compact package. The toaster can fit small households with one or two occupants with two-slice ability.
The slots are 1.5 inches wide, making it ideal for those who prefer thick-sliced bread and different-sized slices.
In addition, the toaster feature seven settings, thereby offering you the option to choose from seven different shades. This toaster is made of tempered plastic to ensure durability and longevity in terms of construction quality.
If you're looking for a unit that will help you save space effectively while still not compromising on quality and aesthetics, the CPT-122 is an ideal option to go for.
Additionally, this model features heat and defrost settings that warm your bread. This means that you can defrost the bread for about thirty seconds, reheat your toaster, and choose the option the toasting option you want.
Another notable feature about this toaster is that it features a slide-out crumb tray that makes it easier to remove left-out pieces for ease of cleaning.
For anyone looking for a high-durable, compact, and functional toaster with effortless working, the Cuisinart CPT-122 is an ideal option. With seven different dials offering a wide variety of toasting options as well as a removable crumb tray, this aesthetically appealing space saving toaster will be a valuable addition to any kitchen.
---
Amazon 2 Slice Toaster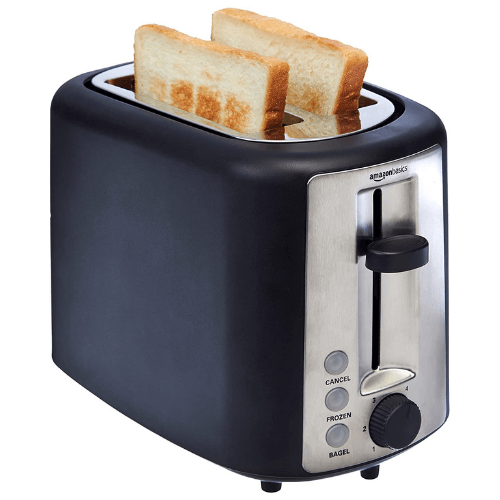 Pros:
Durable thanks to the stainless-steel construction.
Easy to clean.
Power-efficient.
Affordable.
Feature extra-wide toasting slots.
Cons:
Controls could have been made more solid.
It lacks an LED indicator light.
The Amazon Basic toaster is another renowned toaster with a variety of options. This 2-slice toaster has 5.75 inches wide toasting slots ideal for toasting medium-sized and extra-thick pieces of bread. In addition, it's a budget-friendly toaster making it ideal for those on a tight budget.
This model is made of quality stainless steel construction that makes it highly durable in terms of design. It also has a long cord, and thus you can place it away from the power outlet. In addition, it has a cutting option to make it easier to cut bread with a bagel setting. The freezing option and cancel feature make the whole toasting process effective and less time-consuming.
This model from Amazon Basics features six different heat settings that allow you to toast your bread in different shades ranging from golden to deep brown.
Furthermore, it has safety features such as a long cord, power efficiency, and stable voltage. The power efficiency allows it to retain more heat inside and thus doesn't need to draw a lot of heat.
Overall, the AmazonBasics space-saving toaster is among the highly-effective toasters in the market thanks to its durable construction, power efficiency, and ease of cleaning. It features six heating settings, safety standards, and extra-wide slots. Furthermore, it has three different functions, a bagel setting and a removable basket under a tight budget.
---
whall Stainless Steel Toaster
Pros:
Has built-in warming tray making it suitable for croissants, rolls, and more.
Small and compact.
Anti-heating protection.
Durable construction.
Fuss-free cord wrap underneath to manage the power cord.
Cons:
Few complaints about uneven toasting.
This whall toaster 2 slice may not be the smallest on this list, but it's aesthetically appealing and functional. You can toast bread in whichever way that you like.
It even features an exceptional setting for people who insert frozen bread or toast and forget the bread inside. The reheat option makes it possible for you to toast frozen and cold-already-toasted bread. The built-in warming rack is a brilliant feature.
And the good thing is that the toast stays warm without making your bread rock-hard. Its extra-wide toasting slots can warm croissants, rolls, and other pastry items.
It has six bread shade settings to allow you to achieve different shades. In addition, there's a removable tray that collects bread crumbs making it easier to clean. The toaster is ETL certified to ensure safety standards are adhered to.
Furthermore, it features a durable stainless steel design, thereby guaranteeing durability.
---
iSiLER 2 Slice Toaster
Pros:
It has an appealing design.
Made of durable materials.
Feature two toasting modes.
Has seven browning levels.
Power-efficient.
360-degree even browning.
Removable crumb tray.
Cons:
The lever is challenging to lock into place as compared to competitors. Be gentle.
The iSiLER Toaster is another compact option you can consider. Its aesthetically appealing bright color and design make the toaster pretty and attractive. The yellow body and black control knobs give it a beautiful combination and thus will brighten your kitchen interior.
This toaster is made of two materials, stainless steel, and plastic in terms of construction. The plastic material is tempered and doesn't rust.
Due to its compact design, you can place it on your kitchen countertop or cabinet. In addition, it has two toasting modes and a cancel function. Defrost mode is for toasting frozen bread, while the reheat mode is for warming the already toasted bread. The cancel option comes in handy when your bread is toasted to your preferred browning.
Speaking of browning, the iSiLER has seven settings – from light to dark shades.
---
Oster 2 Slice Toaster
Pros:
It has a modern, attractive design.
Toasts evenly due to auto-adjusting guides.
Has extra-wide slots for toasting different sizes of bread and bagels.
Power-efficient.
Cons:
Few complaints about uneven toasting.
Our final option is this two-slice bread and bagel toaster from Oster, a renowned brand in the kitchen appliance niche. It's available in black and purple color, thereby offering you a choice when it comes to matching your kitchen interior.
This space saving toaster is made of a combination of stainless steel and plastic, both of which are robust and high-quality materials.
The model is designed with advanced technology to guarantee the excellent performance of toasting. You can rest assured that your bread or bagel will be toasted evenly. The two extra-wide slots make it suitable to toast different bread and bagels.
It has four working modes: toast, frozen, bagel, and warm. In addition, it has a cancel button for when you want to stop toasting before the cycle completes.
---
These are the best space saving toaster models in the market. You'll rarely go wrong by choosing any of them.
---
Read Also: