I get commissions for purchases made through links on the site. As an Amazon Associate I earn from qualifying purchases. Learn more.
As you get ready for the hot summer, it's time to think about easy ways to cool off. One of the best ways to cool down is to use a swimming pool. Unfortunately, building one would require more space, money, and time. An inflatable small backyard pools is a better option and would add a chill spot in the backyard. Inflatable pools are easy to set up and affordable than in-ground swimming pools.
In addition, above-ground pools provide a nice middle-ground for families looking for a quick splash around without dealing with the hassle of maintenance. On the flip side, most inflatable pools are small, but you can find a decent-sized inflatable pool for the whole family.
Here are some of the best small backyard pools.
---
Small Backyard Pools Comparison
IMAGE
PRODUCT
DETAILS
PRICE
Intex Easy Set Up 10 Foot x 30 inches
Dimensions: 120"L x 120"W x 30"H
Capacity: 1018 Gallons
Required Assembly: No
Bestway Fast 10 x 30 Pool Set
Dimensions: 120"L x 120"W x 30"H
Capacity: 961 Gallons
Required Assembly: No
Intex Ultra XTR Frame Set Pool
Dimensions: 192"L x 192"W x 48"H
Capacity: 5061 Gallons
Required Assembly: Yes
Intex Inflatable Family Pool
Dimensions: 90 x 86 x 31 inches
Capacity: 156 Gallons
Required Assembly: No
Summer Waves Above Ground Pool
Dimensions: 10 x 10 x 2.5 feet
Capacity: 1,052 gallons
Required Assembly: No
---
Intex 10×30 Easy Set Pool
Pros:
Easy setup.
It comes in multiple sizes.
Perfect for kids.
Easy to maintain.
Cons:
Not deep enough for adults.
The main reason for the popularity of the Intex Easy Set Up is precisely that – straightforward to set up because it's frameless. However, you need a ground-level area to make its setup work. It's a great pool for kids and can be a good option for teaching kids to swim. The intex 10×30 easy set pool can hold up to 1900 gallons of water for the largest pool, enough to hold several kids at once.
The package includes a filter and pump, as well as the hose and brackets. However, most users feel that this Intex pool could last more because it's not very durable. Still, other users appreciate the lower cost. It's among the best inexpensive small backyard pools for the hot summer days and could be a perfect gift for birthdays.
There's a convenient garden hose that's included to drain away from the pool. The manufacturer discourages setting the pool on soft soil, sand, or mud.
---
BestWay Fast Set Pool 10×30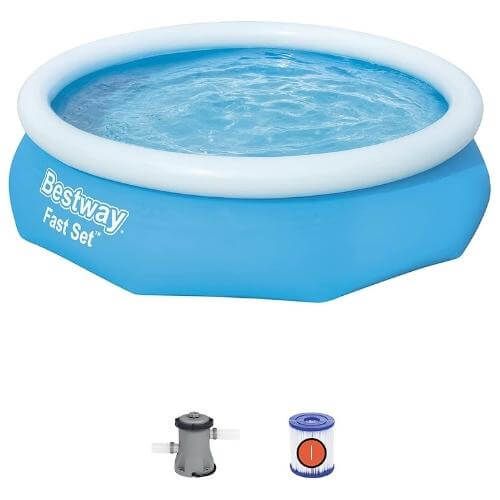 Pros:
It's budget-friendly.
It comes in multiple sizes.
It's durable and well-made.
Easy maintenance.
Cons:
The V-pump used is too small.
Here is a rival to Intex's Easy Set Pool because they are both economical, but Bestway fast set pool has a more competitive price. You can feel the quality of craftsmanship on the sidewalls once you set it up. Well, the setup could take up to 15 minutes, and you might have to watch a video on Youtube. Like other inflatable pools, you need to have a level ground to prevent the water from spilling out.
This model has relatively durable materials, and many users say it can stand up well to several kids roughhousing inside daily. The pump is the only downside with this model because it's too small, and you might need to incur extra costs to get a better pump. Other than that, this model doesn't require much maintenance, except adding chlorine regularly to disinfect the pool.
---
Intex Ultra Frame Pool
Pros:
It has a tool-less assembly.
Can withstand multiple sessions.
It comes with a quality pump and accessory kit.
Cons:
Heavy to setup without assistance.
If you want a deeper above-ground pool, check the Intex ultra frame pool that is 52 inches deep and provides plenty of room for the whole family. The hard-side pool comes with a galvanized steel frame that features a locking system but doesn't require tools for setup. Users say it takes about an hour to snap the pieces together using push-button connectors. The kit comes with everything you need, including a removable ladder, a sand filter pump, debris cover, and ground cloth. The pool has a large capacity of 6981 gallons at 90% capacity.
---
Small Intex Inflatable Pool
Pros:
Includes an inflatable backrest and cup holders.
Substantial water capacity to accommodate adults.
Easy to set up and takedown for storage.
Cons:
Some customers complained about the inflation plugs being loose.
Intex offers some of the best space saving swimming pools, like their latest swim center family linge pool. With its 156 gallons capacity and a maximum water depth of 12 inches below the top ring, you will have all the room you need to relax. This inflatable pool features a comfortable backrest design and two built-in cup holders for your favorite poolside drinks. 
Adults and kids can safely use the Intex inflatable family pool above three years old due to its substantial volume and relatively low height. You can use an electric pump or hand pump to blow up the inflatable pool. Ensure that the pool is on level ground before filling it with water.
This inflatable pool is made of stretchable plastic that can withstand high pressure; however, watch out for sharp objects that might prick it while inflated.
---
Summer Waves Above Ground Pool
Pros:
Ships with a filter pump to keep the pool water clean at all times. .
Made of a triple-layer PVC with polyester for increased durability.
It has a maximum water depth of two feet.
Cons:
Some customers complained about leaks around the inlet and outlets connecting to the filter pump.
Summer Waves pool measures 10 feet in diameter and a height of 2.5 feet. When filled up, this inflatable pool can hold at least 1052 gallons of water, making it one of the best space-saving swimming pools in the market right now. Thai ring pool has an inflatable top that pops outwards when inflated, and you can rest on it comfortably. 
Unlike other inflatable swimming pools that are prone to busting the summer waves, inflatable pools feature a durable triple-layer PVC with an additional layer of polyester mesh. This increases the durability of the material for long-term use.
Summer waves above ground pools ship with a custom RX330 pool filter pump featuring a built-in chlorinator and filter cartridge. This filters out dirt and microorganisms from the pool water so that you don't have to replace the entire volume with every swim.
---
Conclusion
If you have space and can afford an above-ground inflatable swimming pool, it's one of the best gifts for your family. If you are looking for the best small backyard pools for kids and family, all the choices we've included in this guide are ideal for you.
Remember that all inflatable pools require the stable and flat ground to work. If you still need help about the best small backyard pools in 2023.