I get commissions for purchases made through links on the site. As an Amazon Associate I earn from qualifying purchases. Learn more.
In a world where square footage comes at a premium, making the most out of your living space is more important than ever. One of the best ways to do this is by going vertical. Using vertical storage solutions allows you to maximize your space while keeping your belongings organized and accessible. But how do you implement these solutions without compromising on style? Let's delve into this topic and provide you with actionable tips and ideas to transform your home.
---
The Need for Vertical Storage
First and foremost, let's acknowledge the elephant in the room: not everyone has the luxury of sprawling homes with ample storage. As urban living conditions get more cramped, the need for innovative storage solutions becomes crucial. That's where vertical storage comes into play. By utilizing the walls and the space above your furniture, you can create a functional home without feeling overwhelmed by clutter.
---
The Power of Shelves
One of the most straightforward and effective vertical storage solutions is shelving. You can use shelves in almost any room of your home—whether it's in your living room for books, in the kitchen for spices, or in the bathroom for toiletries.
Floating Shelves
Floating shelves are a popular choice for their minimalistic look. They are perfect for displaying decorative items or storing everyday essentials. And the best part? They can be installed at various heights, giving you the flexibility to make the most out of your wall space.
---
Modular Shelving
Moving on, we have modular shelving units. These are perfect for people who want a flexible storage solution that can be customized to fit their needs. As your storage requirements change, these units can be easily adjusted or expanded.
---
Utilizing Hooks and Pegboards
Next, let's talk about hooks and pegboards. These simple yet versatile solutions can do wonders in maximizing your vertical space. For instance, you can hang pots and pans on pegboards in your kitchen or use hooks behind doors to store jackets, bags, or umbrellas. Furthermore, pegboards are perfect for craft rooms or garages, where you can hang tools, supplies, and even bikes.
---
Think Inside the Box
When it comes to vertical storage, don't overlook the potential of stackable storage boxes or cubes. These are particularly useful in bedrooms and closets for storing clothes, shoes, or accessories. Plus, they come in various materials, including fabric, plastic, and wicker, so you can choose the one that best fits your home decor.
---
The Role of Furniture
So far, we've discussed solutions that are added to your space. But what about furniture that comes with built-in vertical storage options?
Tall Dressers and Armoires
In bedrooms, opt for tall dressers or armoires that take up less floor space but offer ample storage with multiple drawers or shelves.
---
Beds with Storage
Furthermore, beds with built-in drawers or storage compartments below the mattress can also provide a discreet place for linens, out-of-season clothes, or even kids' toys.
---
Wall-Mounted Desks
In home offices or study rooms, consider wall-mounted desks that provide workspace without taking up room on the floor. These desks often come with additional shelving above the work area, providing a built-in solution for your storage needs.
---
Vertical Gardens: A Breath of Fresh Air
Last but not least, let's talk about vertical gardens. Not only do they allow you to indulge in your green thumb without sacrificing floor space, but they also act as a living piece of art. You can use vertical planters or even DIY solutions like hanging mason jars or shoe organizers to create your vertical garden.
---
Boosting Home Value with Vertical Storage Solutions
Maximized Space: Vertical storage declutters and optimizes space, offering potential buyers more room without compromising on floor area.
Stylish Designs: Modern vertical storage enhances home aesthetics, making properties more attractive and marketable.
Durability: High-quality vertical storage solutions offer longevity, ensuring buyers of a lasting investment.
Customization: Offering adaptability, these storage options can be tailored to individual needs, emphasizing a home's potential to evolve.
Premium Features: Unique vertical features, like built-in shelves or garden walls, can set a property apart, fetching higher prices.
Energy Efficiency: Strategic storage improves air circulation and natural light, attracting eco-conscious buyers.
Urban Appeal: Ideal for city living, homes with vertical storage solutions appeal to urbanites familiar with space constraints.
Incorporating vertical storage solutions not only organizes a home but can also significantly increase its market value due to the blend of practicality and style they offer.
---
More Vertical Space Ideas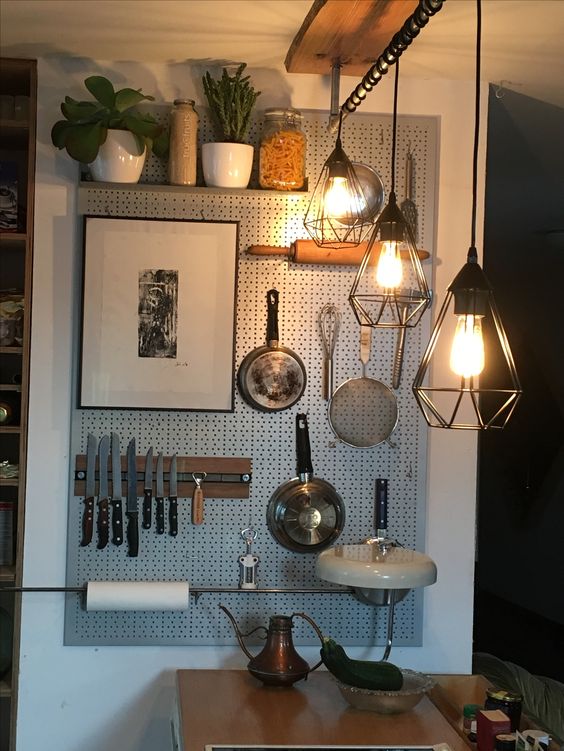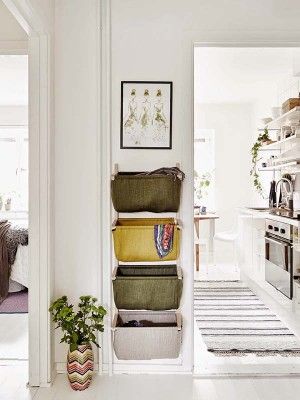 ---
Conclusion
In summary, vertical storage solutions are a game-changer when it comes to making the most of your small space. Whether it's shelving, hooks, storage boxes, or even multi-functional furniture, the sky's the limit when it comes to going vertical. Not only will these solutions help you keep your belongings organized, but they'll also contribute to a clutter-free, more spacious home. So go ahead, think vertically and transform your living space today!
Remember, you don't have to sacrifice style for functionality. With a little creativity and planning, you can have both. Start implementing these vertical storage solutions and watch your small space turn into a functional, organized, and stylish haven.
---
Frequently Asked Questions (FAQs)
Why Are Vertical Storage Solutions Essential for Small Spaces?
Vertical storage capitalizes on the often underutilized vertical space in a room, allowing homeowners and renters to optimize and declutter their living areas. Especially in compact homes or apartments, vertical storage is a game-changer, making spaces appear larger and more organized.
How Do Vertical Storage Solutions Improve Home Organization?
By utilizing wall space and height, vertical storage systems, like wall-mounted shelves and hanging organizers, provide additional room for belongings without taking up floor space. This approach streamlines storage, keeping items accessible yet out of the way, leading to a tidier home environment.
Can Vertical Storage Systems Be Integrated in Any Room?
Absolutely! Whether it's the bedroom, kitchen, bathroom, or living area, there's a vertical storage solution that can be tailored to fit. From floating vanities in bathrooms to pull-down kitchen racks, the possibilities are both functional and stylish.
Are Vertical Storage Solutions Cost-effective?
While the initial investment might vary, vertical storage solutions often prove to be cost-effective in the long run. They maximize space, reducing the need for additional furniture or storage units. Plus, they can add to the aesthetic value of your home, potentially increasing its market value.
How Can I Choose the Right Vertical Storage Solution for My Home?
Start by assessing your needs and the available space. Measure the height and width of your walls and consider the items you need to store. Consulting with a vertical storage expert or browsing online galleries can provide inspiration and guide you to the perfect solution tailored to your home's unique requirements.
---
Read Also: